Mantini, Ron
Ron Mantini
Ron Mantini, a two-sport athlete in basketball and baseball, was a leading center on the hard courts, as well as a pitcher/1st baseman on the diamonds of Lorain County in the 1990's. At 6'8" he was a menacing sight on the baseball mound; and, he had the ability to score from inside or beyond the 3-point line on the basketball court.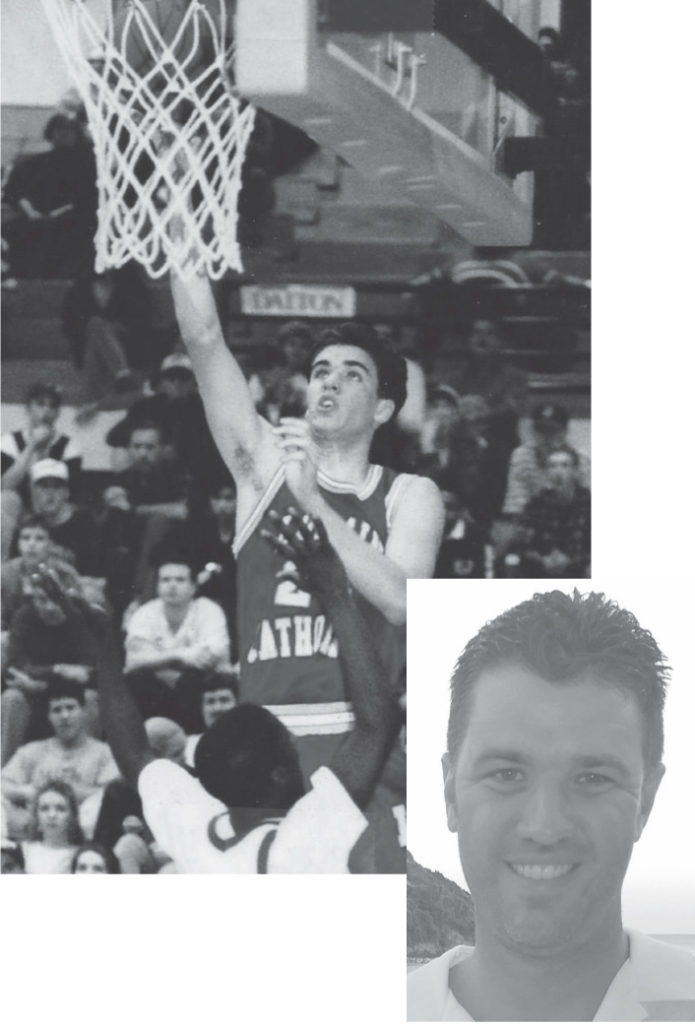 Ron was a three-year letterman in basketball playing for LSHOF inductee Jim Lawhead at Lorain Catholic High School. He scored 1,169 points in his basketball career at LC which ranks 5th all time. As a sophomore he was a member of the (21-3) 1992-93 basketball team; and, scored 22 points in Lorain Catholic's final basketball District Title, a thrilling victory over Oberlin High School. In 1993-94, he led LC to a 19-4 record; and, was named Lorain County Player of the Year, NE Ohio Co-Player of the Year, and 1st Team All-Ohio in Division III. He averaged 23 points and 11 rebounds per game. In 1994-95 he was again named Lorain County Player of the Year, NE Ohio Co-Player of the Year and 2nd Team All-Ohio in Division IV. Ron averaged 21 points and 11 rebounds, and, played in the North-South All-Star game in St. John Arena, Columbus, Ohio.
Ron was also a 4-year letterman in baseball at LC. He pitched the Spartans to the 1994 District Championship for a 17-3 team that lost in the Regional Finals. That season, his record was 6-0 on the mound; and, he batted .453 with 4 HR and, named 1st team All-County. The 1993 team had a 14-4 record and lost in the District Finals.
Ron played baseball for LSHOF inductee, Manager Bill Tippie for 6 seasons. They travelled the country as far and wide as Casper, WY; Dalton, GA, and St. Joseph, MO. The 1991 team took 3rd place in the Hap Dumont World Series in Casper. The 1993 team won the Ohio State Mickey Mantle Championship; and, finished as runner-up in the Mid-Western US Regionals, falling 1 game short of a 3rd world series appearance in 4 years. The 1991 team finished the season with a 51-16 record; and the 1992 team had a 62-6 record.
Ron also played AAU Basketball for Al Stacey's Ohio Hoopsters. They won the NE Ohio AAU Regional Tournament 2 years in a row qualifying for the AAU National Tournament where their best finish was 6th place at Oklahoma City in 1993.
Ron received a full basketball scholarship to NCAA Division II California University of Pennyslvania with the intent to play baseball as well. Unfortunately, he suffered a torn ACL during the freshmen basketball season and decided not to return, transferring to The Ohio State University, where he graduated.
Ron has been married to his wife Anna for 17 years and currently resides in Chandler, Arizona with his four children Natalie, Bellamaria, Monica and Dean.