Jackson, Michael Wayne

Michael Wayne Jackson
Michael Wayne Jackson came from a large family; he had 6 sisters and 3 brothers. His parents had the whole group returned to Arkansas each summer to reunite with extended family. This is where he learned commitment and loyalty. It was in the basement of Hawthorne Junior High that he learned to wrestle. It was there that future judge, Jim Burge, then a first-year teacher, saw the potential in Wayne. He took him to the old
mats that were stored in the basement and the rest is history. Even though Wayne was a three sports player at Admiral King, wrestling was his main
go to activity. He attended West Virginia State University where he played tailback, but at the end of the year family obligations brought him back to
Lorain.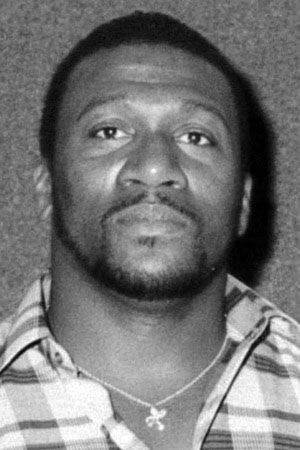 As a high school sophomore, Wayne took his lumps, as do many first-year wrestlers while learning their way around the mat. As a junior he began displaying the potential in becoming an exceptional wrestler by sporting a winning record and placing at the Buckeye Conference tournament. His senior year, 1972, appeared to be the time to turn it on. He was set to tear up Northeast Ohio in his weight class winning just about everything there was to win that year. Wayne concluded the year with a 25-2 record and 1st place at both the Pioneer Invitational and Buckeye Conference. But there is a well told story that has become legend in Lorain wrestling lore. Tony Lucki was a very good wrestler at Midview, also at 167. Wayne beat him in their dual meet; Wayne beat him for the sectional championship; Wayne also beat him for the district championship; but as the saying goes, "Success breeds complacency" and the biggest surprise at the State Tournament took place when Lucki upset Wayne in the last 6 seconds in the championship match. The 2nd place is still the record for the highest placement of any Admiral King wrestler. Other Admiral King records Wayne still holds are for the fastest pin at 21 seconds, and he is the only AK wrestler to place 1st at Districts.
A few years later, in 1975, retired Elyria wrestling coach, Bill Pierson, re-started a wrestling program at Lorain County Community College; he recruited Wayne to join the team. The opening on this team was at the 190-weight class and Wayne only weighted 180, but that didn't stop him from achieving immediate success. The team wrestled in seven tournaments that year and Wayne took the championship in six of them and was 2nd in the other. His overall record was 33-3. His other achievements were being awarded the trophy for the most pins at the Schoolcraft Invitational in Livonia, Michigan, and also winning the Regional championship by pinning two of his opponents. That year Wayne was one of the LCCC wrestlers to qualify for the season ending National tournament.
When the topic of wrestling in Lorain County comes up, Michael "Wayne" Jackson's name always works its way into the conversation. Not only is his status as Admiral King's highest place winner mentioned and his induction into the Lorain County Wrestling Coaches and Officials' Hall of Fame, but also his 35 years of coaching experience. He has coached both baseball and football as an assistant at Admiral King, but his wrestling coaching is where he put in the most time, assistant at AK for three years and then he took the head coaching position from 1980 to 1982. Wayne then moved over to Southview and coached there for 28 years. His coaching career and the Lorain Sports Hall of Fame must go hand in hand. Wayne assisted many coaches that went on to fame in the Hall of Fame. Some of the head coaches that he worked for were: Bob Azzariti, Gene Mudrock, Bill Provident, and Dan Ternes. Fred Churchill, as the AD, recommended him for many of his coaching jobs. Wayne was given credit for helping develop some of Southview's best wrestlers, many who went on to state championships. Wayne has been previously inducted into the Hall of Fame as a coach for the 1993 Southview wrestling team. Along with Dan Ternes, he coached and helped build the youth wrestling buddy program. For all of his Southview years Wayne was a volunteer. He loved the sport and he loved to mentor the young wrestlers.
At 70, Wayne still believes in family, and he has a family that has achieved some of the highest level in sports. His son was one of the best pitchers to ever come out of Admiral King; he was drafted and played in the Pittsburgh Pirates farm system. His grandson was one of the best running backs to come out of Elyria Catholic and was the starting running back at Kent State University. He now is playing professional football. His cousin, Gary Huff, is a LSHOF inductee. And finally, his nephew, Thomas Winbush, is playing in the NBA with the Long Island Nets.
Wayne has been married to his wife, Joni, for 44 years. He has 1 son and 3 daughters. He recently retired from the Lorain Correctional Institution after serving 28 years as a correctional officer.