King, Jeff
Jeff King, 2012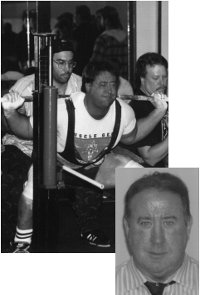 Since 1977, Jeff has competed in nearly 100 meets throughout the United States and Canada, including events in the National Athletes Strength Association (NASA), American Powerlifting Federation (APF) and the International Powerlifting Association (IPA).To Jeff King, living along the shores of Lake Erie was like living in paradise. When he was twelve, he met neighbor George Rusinko, and was introduced to the sport of weightlifting. George started the skinny twelve-year-old on a training path to success. He trained systematically every week, year round to become competitive in
the sport. Eleven years later at the age of 23, Jeff began his remarkable career in the sport of powerlifting. During a powerlifting competition each lifter is allowed nine attempts to lift his target weight, with a successful attempt lasting up to five seconds.
Jeff has compiled an impressive resumé in his weightlifting career. He was ranked in the top 20 in the country in the dead lift from 1981 thru 1986, reaching a high of 11th place in 1984, while dead lifting 725 pounds. In 1994, Jeff placed 1st in the NASA Nationals setting three American records in the squat (628 lbs), dead lift (628lbs) and total weight of 1,588 pounds.
In 1995, Jeff established a world record in the squat of 744 pounds in the Masters 275-pound weight class. He has placed consistently in the top third in the Nationals with four 1st place, eight 2nd place, and three 3rd place finishes, between 1988 and 2007. Jeff also placed 1st in the 2009 World Championships in York, PA in the Masters 275-pound weight class competition.
Jeff's powerlifting career ended in 2009, followed by two knee replacements in 2010. Jeff is now concentrating his training on the bench press; his goal is to win a World Championship!
Jeff is a lifelong resident of Lorain, where he attended Lorain Catholic High School, Class of 1973. After high school, Jeff attended Lorain County Community College where he earned an Associate Degree in Business & Accounting. Jeff has two daughters, Stephanie and Betsy. He has been employed for 34 years at Job & Family Services in Elyria, where he is the Business Administrator.