Stephenson, James
James Stephenson, 2012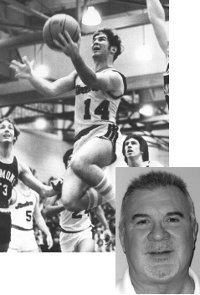 Jim received many awards during his Lorain High School athletic career, from 1970-73. During his senior year, he was named to First Team All-Buckeye Conference Linebacker, First Team All-County, LHS Danny Award winner, and Lorain County Golden Helmet runner-up. He set the all-time football grading scale record of 2,385 points for the Steelman Club Award, (formerly the Black-Tie Award), and was selected to the Cleveland Plain Dealer Dream Team. In addition to Jim's leadership on the athletic field, he was elected a class officer as a senior. Jim was the 1974 inaugural winner of the Lorain Sports Hall of Fame prestigious J. Ed Uland Award.
Jim's outstanding leadership in the classroom and on the gridiron earned him a full scholarship to the College of Wooster. Wooster is a member of the Ohio Athletic Conference (OAC). In his freshmen season of 1974, Jim was awarded the "John Galbraith Award", which is presented to the best freshman on the varsity squad.
After an outstanding freshmen season, Jim had to sit out his sophomore year with a back injury; however, he returned to the gridiron for his junior year. During his senior season of 1977 Jim was team captain, was selected OAC Player of the Week; and, was voted All-Ohio Athletic Conference Defensive Team Linebacker. Jim earned three varsity letters as a member of the College of Wooster football team.
Jim is retired from Riddell All-American Sports Corporation after a twenty-five year career in sales. He has a son and resides in Amherst, Ohio.