Perry, Doyt
Doyt Perry, 2022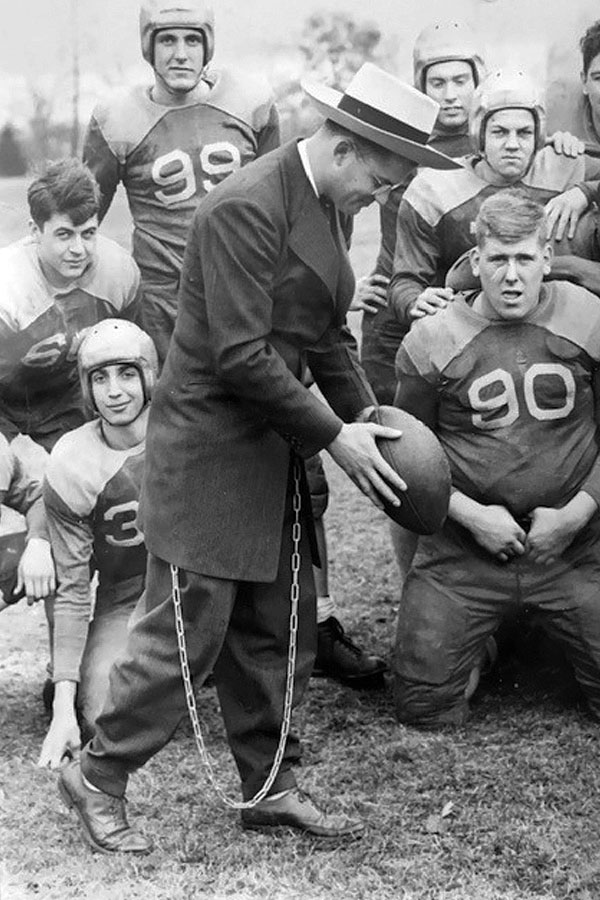 Doyt L. Perry was born January 6, 1910. He entered Bowling Green University in 1929. While attending Bowling Green, he participated, and was captain, in three sports: baseball, as a shortstop; basketball, as a forward; and football as a quarterback. As quarterback at Bowling Green, he led the team to 18 straight victories. The game of football became his passion in life.
Graduating from Bowling Green in 1933 with a degree in secondary education he took his first job teaching at Clearview High School in Lorain, Ohio. Added to his teaching duties was the responsibility to oversee the basketball and track teams. He also later served as principal for two years and as a student advisor. His basketball teams won 161 games, lost 35 and made the playoffs 9 of his 10 years. In 1942 Clearview qualified for the 16 team State Class B basketball tournament. They won their first game and lost their second to state runner-up Bremen for an overall 24-1 record. At the time, 24 straight victories was a Lorain County high school cage record. In his years as track coach his teams earned seven county championships.
In 1943, Clearview won the track Class B District Championship. Individually, Tarver "Cy" Perkins won the 1940 state title for the mile.
Frank Wright won the 1942 state long jump after taking second for the same event in '41.
When Doyt arrived at Clearview he noted there was no football team. So in 1937 he assembled Clearview's first football team. The next 6 years Clearview won 32 games, lost 9, tied 4 games and won 4 league championships.
In 1943 his football achievements were recognized by the city of Upper Arlington near Columbus. As Upper Arlington football coach his teams went undefeated 3 years and won 4 league titles. Due to his success at the Columbus area high school, in 1951, new football coach at Ohio State, Woody Hayes, hired Doyt, as backfield coach, and also graduate assistant Bo Schembechler. Bo later in life credited Doyt as being his mentor in coaching football. In 1954 Ohio State University won the National College Championship.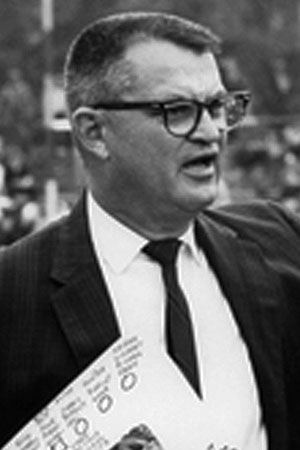 In March of 1955, Doyt Perry became the head coach at Bowling Green State University in the Mid-American Conference and hired Bo as an assistant coach. Prior to Doyt's arrival at BGSU the football program had no recent winning seasons. Doyt instilled a winning attitude. His rule was to win with character, honor and fairness and to lose gracefully. He would prepare his teams mentally and physically to win but not to become over-confident. His players said they would readily follow him and work for perfection on the gridiron.
Immediate success followed. In 1955, his first year at BGSU, his team had 7 wins, one loss and one tie. In 1956, his second year at Bowling Green the Falcons were Mid-American Conference champions and Doyt was named "Ohio College Football Coach of the Year." That same year he declined an offer to coach football at the University of Missouri. In 1959, BGSU had a perfect season and the second Mid-American Conference championship. In addition, BGSU won the 1959 College Division National Championship Trophy from United Press International, a "Marquee" achievement. They were the best college level team in the nation. Doyt was named, for the second time, "Ohio College Football Coach of the Year." In 1961, 1962 and in 1964 under Coach Perry BGSU won three more Mid-American Conference titles.
In 1965, Doyt retired from coaching and was named the Athletic Director at BGSU. Doyt's head coaching record from 1955 to 1964 was a winning percentage of .855. This was the best in the nation at that time. Soon after retiring, Bowling Green University's football stadium was named the "Doyt L. Perry Stadium". His other honors include:
• 1970 BGSU Athletic Hall of Fame
• 1977 Helms Foundation Hall of Fame for Athletic Directors
• 1985 Ohio High School Coaches Hall of Fame
• 1988 National College Football Hall of Fame in New York City
• 2019 Lorain County Track and Cross Country Hall of Fame
• 2022 Lorain Sports Hall of Fame
His players credit Doyt with preparing them for life by developing their character and teaching them to play as a team. Players would come back to their "Coach Doyt" later in life for advice. He was a father figure to his players and to his assistant coaches, many of whom went on to become head coaches themselves. As a highly successful coach, he was asked many times what he thought was the most rewarding and best job of coaching he had ever done. Doyt would smile and point to his first year of coaching football. He would say "The year I started football at Clearview with players who had never seen a game as the most challenging and most satisfying experience".