Lorain High Titans to play St. Ignatius for district title March 14 after beating Brunswick in triple OT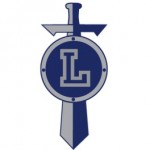 Lorain's fabulous, unbeaten basketball season continues. The Titans will play St. Ignatius for the Division I district title on Saturday, March 14 after defeating the Brunswick Blue Devils 59-56 in triple overtime March 11. Good luck, and Go Titans!
Posted March 11, 2015; Updated March 12
____
Thanks for successful Steak Fry!
Thank you to everyone who attended, helped with and supported the Lorain Sports Hall of Fame Steak Fry on March 8 at the Amherst Eagles hall! The event was a huge success, raising funds to support LSHOF, our museum and our J. Ed Uland Scholarship for outstanding high school scholar-athletes from Lorain. We sincerely appreciate all your assistance in honoring Lorain's great sports heritage!
Posted March 9, 2015
__
Lorain Sports Hall of Fame names 2015 inductees
The Lorain Sports Hall of Fame has announced its Class of 2015 to be enshrined during this year's banquet to be held Thursday, May 7, at Deluca's Place in the Park. Details on ticket sales will be announced soon.
Selected for the Regular category are Nandi Cruz, the late Roy "Froggy" Davis, Larry Flynn, Billy Kopp and Marin Ferlic Waynar. Rommie Harris will be enshrined in the Senior category and Frank Graziano in the Special category. Two teams were also voted into the Hall. They are Bonk's 1952 baseball team and the Southview 1993 wrestling team.
REGULAR
Nandi Cruz
Nandi starred at Southview High School and was so outstanding that he was chosen as USA Today's Ohio High School Athlete of the Year in 1987 after being named All-Ohio in football, basketball and baseball. After graduating from Southview, Nandi signed with the Chicago White Sox. He was progressing through their Minor League system until a series of knee injuries curtailed his pro career in 1992. Nandi continued his playing career in fast pitch softball as a member of two national championship teams and gathered a number of individual awards.
Roy "Froggy" Davis
Froggy was an outstanding basketball player at Clearview High School who, although being only 5'9″ tall, was ahead of his time in shooting, ball handling and defensive footwork. During his senior season, he set the county record of 57 points in a game. He also had games of 56, 48, 46 and 45 points that helped him attain a 31.8 ppg average that led Greater Cleveland. Froggy played one year at Central State University before enlisting in the U.S. Army.
Larry Flynn
Larry was a key member of the 1975-76 Lorain Catholic 25-1 basketball team that made it all the way to the state finals. He scored 28 points in the Regional finals against Van Wert in the gateway game to state. Larry started 50 straight games in his varsity career. He has been enshrined into the Defiance College Athletic Hall of Fame. At Defiance, Larry played in 110 straight games and scored 1258 career points, ninth best in Defiance history.
Billy Kopp
Billy was an outstanding wrestler at Southview High School. He had a sensational senior year with a 31-0 record capped by a state championship in 1988. During his 4-year career at Southview, Billy compiled a record of 98-19. He continued at Lassen Community College in California where he went 21-3. Billy served with success as head wrestling coach at Southview and Lorain High Schools.
Marin Ferlic Waynar
Marin starred in volleyball all 4 years as a student-athlete at Lorain Catholic High School. As a senior in 1992, she was selected All-District Player of the Year, was Lorain County Miss Volleyball and chosen for the Ohio All-Star team. Marin then was accorded a full Division I scholarship to Bowling Green State University where she set career highs in aces and digs.
SENIOR
Rommie Harris
Rommie was a standout softball player in various men's leagues from 1955 until 1974. He holds home run records, with many tape measure blasts that are still talked about. Rommie was named most valuable player and was selected for several all-star teams in both Class A and B.
SPECIAL
Frank Graziano
Frank has been a weightlifting trainer since 1961. He originally taught weightlifting to student athletes at Admiral King and Lorain High School. Frank has been an independent trainer since 1969. Numerous testimonials from successful athletes express how Frank has improved and enriched their lives.
TEAMS
Bonk's Café 1952 baseball team
The team was together for 2 years compiling a record of 51-8. During that time, Bonk's won 2 city Class C championships plus a junior state title in a tournament held in Toledo. They advanced to a national tournament in Niles, Michigan. Some of the team members included future pros Del Bastock, Doug Swartz, Bill Mihalik, Tom Johnson, Dick Ridenour, Steve Matesick and Jim Yurman.
Southview High School 1993 wrestling team
Southview, coached by Dan Ternes, finished 2nd in the state after going undefeated in dual meets and finishing first or second in every regular season tournament they entered, some containing as many as 32 teams. Six of the Saints placed at state, headlined by a state championship from Juggy Franklin.
Posted Feb. 20, 2015
_________
Steak Fry March 8 to benefit LSHOF, tickets on sale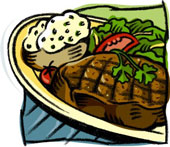 Steak fry tickets are on sale now for the Sunday, March 8, dinner to benefit the Lorain Sports Hall of Fame and its Uland Scholarship. The steak fry will be held from 4 p.m. to 7 p.m. at the Amherst Eagles Hall, 1161 Milan Avenue, Amherst.
.
Tickets are $20 per person and include a steak, baked potato, salad, roll, beverage and dessert. For $5, children can instead have a hot dog, burger or chicken tenders, chips and beverage. The club kitchen will be available. A 50-50 raffle and basket raffles also will be featured.
To buy tickets, contact any LSHOF Committee member, or contact Terry King at 440-288-4795 or 440-453-9414 or contact Tom Bauer at tbauer@bright.net or 440-213-8719 or 440-282-4624 by March 1.
The Uland Award is presented annually to an outstanding senior class scholar-athlete from Lorain High or Clearview High School.
Updated, Jan. 23, 2015
___________
Golf outing set for Aug. 2, mark your calendars
Right now, during the cold, gray days of winter, it's the perfect time to think about a sunny summer day of golf. Mark you calendars: The 2015 Lorain Sports Hall of Fame Golf Outing will be held on Sunday, Aug. 2 at the Fox Creek Golf Club in Lorain. Prizes, refreshments and dinner will be part of the fun, as well.
Proceeds from the golf outing support the Lorain Sports Hall of Fame and its J. Ed Uland scholarship for outstanding Lorain senior high school scholar-athletes.
The popular outing is a four-person scramble. Sign-up for teams will be on a first-come basis. Last year, some teams ended up on a waiting list, so be sure to get your golfers signed up promptly.
The LSHOF Golf Outing also is a great chance to showcase your company or group with a hole sponsorship sign on the course. Nearly 50 sponsors took advantage of that opportunity last year.
Details on golfer sign-up and hole sponsorships will be forthcoming, but right now, save the day — Sunday, Aug. 2 — for the Lorain Sports Hall of Fame's annual golf outing. For answers to any questions, call Rick Hans at 440-213-9162.
Posted, Jan. 21, 2015
_______
Posted Jan. 16, 2015
_____
Posted Dec. 22, 2014
_____
All-Ohio football honors go to three here
Congratulations to the Lorain area's three All-Ohio high school football honorees for 2014.
Rashod Berry of the Lorain High School Titans was named 1st Team Div. 1 All-Ohio Defense.
Lance Billings of Clearview High School was named 1st Team Div. IV All-Ohio Receiver. This is his second year in a row receiving All-Ohio honors.
Dave McFarland, coach of the Lorain High School Titans, was named Ohio "Coach of the Year."
The Lorain Sports Hall of Fame takes pleasure in recognizing these outstanding achievements.
Posted Dec. 7, 2014
_______