LSHOF leads the Alumni Walk at Homecoming Bonfire
Lorain Sports Hall of Fame Committee members proudly led the Alumni Walk at the fourth annual Lorain City Schools Homecoming Bonfire on Sept. 25 at Lakeview Beach. Attendees at the celebration stopped by at the LSHOF table to see the display and pick up applications to nominate Lorain athletes for a spot in the Hall of Fame. Click here to see video from the Alumni Walk.
LIKE the Lorain Sports Hall of Fame page on Facebook, too!
Updated Sept. 25, 2014; Posted Sept. 22, 2014
__________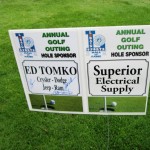 Our thank-you to all LSHOF Golf Outing hole sponsors
Here's a list of all those who sponsored a hole in the recent LSHOF Golf Outing. We'd like to thank them all and recommend them for your appreciation in their financial support for the work of the Lorain Sports Hall of Fame, its museum and J. Ed Uland Scholarship Award. Our thanks to sponsors, alphabetically:

Amherst Eagles 1442
Amvets #47
Arredondo, Joel
Boros, Debra ( Judge )
Burge, Jim (Judge)
Citizens For Lorain Schools
DeLuca's Place in the Park
Dillon, Bill & Bambi
Ed Tomko Chrysler Jeep Dodge
Ewers, Ray (Judge)
First Federal Savings
Gidich Heating and Air-conditioning
Gluvna-Shimo-Hromada Funeral Chapel
Janasko Insurance Agency Inc.
Jenkins & Bevan
Vantage Financial Group — Jones, David
Koury, Bryan — Lorain City Schools Athletic Director
Koury, George
L.H.S. Sports Booster Club
Legacy Property Management — Glenn King
Lorain Education Association — LCS teachers
Lorain St. Mary's C.Y.O.
Mantini, Ron
Mariotti Printing Company
Mihok, Mark (Judge)
Miraldi, Jim (Judge)
New Health Concepts (Dr. Jim Bedocs)
Next Goal (Brad Mullins)
O'Hara's Beverage
Prime Time Motors LLC
Ray Gidich heating & Air Conditioning, Inc
Raymond Plumbing & Heating
Ray's Golf (Ray Tomaszewski)
Riley, Pat
Ritenauer, Chase (Mayor)
Rositano, David DDS
Selenti's Pizza
Sliman's Sales & Service
Sons of Amvets
Stammitti, Phil (Sheriff)
Superior Electric Supply
Terminal Ready Mix
Tim & Tomo
Trigilio, Tim
Tully, Mike
Harbourtown Travel — Turton, Jim
Weber, Dale — LCS treasurer
Will, Dennis
Williams, Tom (County Commissioner)
Posted Sept. 4, 2014
____
Sept. 30 deadline for LSHOF Class of 2015 nominations
The Lorain Sports Hall of Fame is now gathering nominations from the public for its 2015 class of inductees to be enshrined next spring. Deadline for submitting nominations is Sept. 30. Nomination applications, and complete details, can be found on the Nomination Process page of this website.
Nomination forms also may be picked up at the LSHOF museum in the lobby of the St. Joseph Community Center, W. 20th Street & Livingston Ave., in Lorain, from 10 a.m. to 1 p.m. on Mondays, Tuesdays and Thursdays.
Additionally, nomination applications will be available at the LSHOF table at the Sept. 12 Lorain High School football game at George Daniel Stadium.
To be eligible for enshrinement, athletes must be nominated by a member of the public. Eligibility details and documentation requirements are listed on the application form and on the Nomination Process page of this website. If there's someone you think should be in the Lorain Sports Hall of Fame, click here and get started on preparing that nomination. Candidates will be screened and voted on by LSHOF Committee members over the winter, and the new class will be inducted at the annual ceremony in May 2015.
Posted Aug. 27, 2014
_______
112 golfers make 2014 LSHOF Golf Outing a success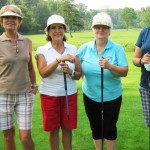 Twenty-eight foursomes enjoyed a beautiful day on the golf course at the LSHOF 2014 Golf Outing on Aug. 3 at Fox Creek Golf Club in Lorain. The annual event supports the work of the LSHOF and its museum as well as its J. Ed Uland Scholarships for outstanding Lorain scholar-athletes. Afterward, the golfers enjoyed a steak dinner at the Amherst Eagles hall. Thanks to all who participated in making the day a success!
Click here for a look at scenes and teams at the golf outing:
Posted Aug. 4, 2014. Photos updated Aug. 19, 2014, to list golfers' names in left-to-right order
_________
LSHOF Steak Fry
Dozens of attendees enjoyed a steak dinner and socializing at the Lorain Sports Hall of 2014 Fame Steak Fry held Aug. 3 at the Amherst Eagles hall. Proceeds from the event support the Lorain Sports Hall of Fame and Museum as well as the group's J. Ed Uland Scholarships for outstanding Lorain senior scholar-athletes headed to college.
Posted Aug. 3, 2014
_________
Jim Turton, Dan Gilles join LSHOF Advisory Board
Jim Turton and Dan Gilles are the newest members of the Lorain Sports Hall of Fame Advisory Board, and they attended their first LSHOF Committee meeting today. Turton is a 2014 LSHOF inductee and Gilles is a longtime local sportswriter for The Morning Journal and the Chronicle. Welcome, gentlemen!
Posted July 16, 2014
___________