________________
2022 Banquet ticket reservations, advertising & patron ad forms
Get your 2022 LSHOF Enshrinement Banquet ticket reservations, booklet advertising and booklet patron ad forms now by clicking on the highlighted links for each below. Tickets are $35 each. Other details are on each form. Print out the forms, fill in your information, and mail them back with payment. The banquet will be Saturday May 14 at German's Villa.
Please join us in honoring the 2022 Class of LSHOF enshrinees at the banquet and with your congratulatory and banquet patron ads in the commemorative banquet book!
Posted March 7, 2022
___________
Announcing LSHOF Class of 2022
Congratulations to our 2022 Class of Inductees in the Lorain Sports Hall of Fame. They will be enshrined on Saturday May 14 at the annual banquet at German's Villa. Ticket information will be forthcoming.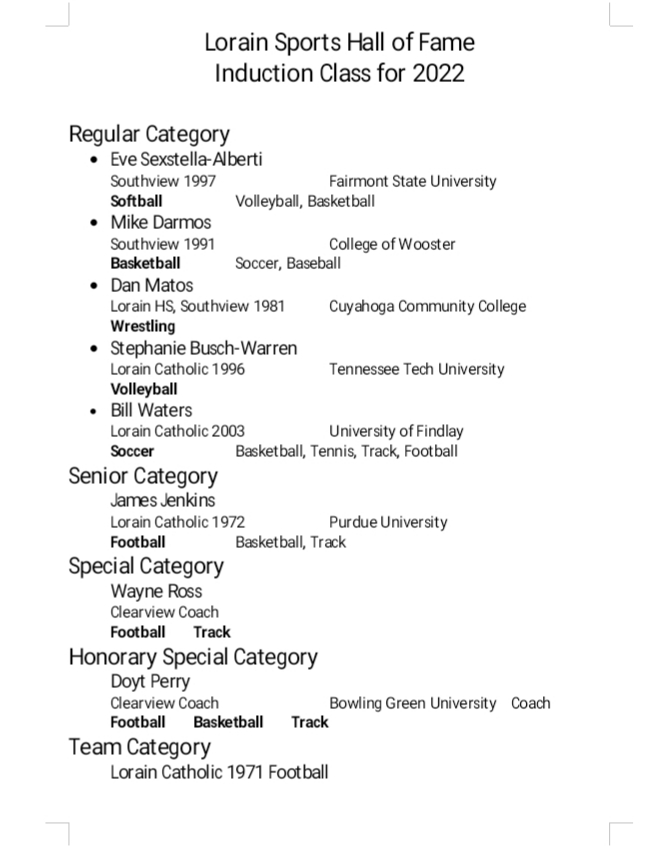 LSHOF 2022 inductees in the news:
Posted Feb. 18, 2022
___________________
LSHOF honors Titans All-Ohio lineman

Posted, Feb. 1, 2022
__________
Watch 2021-2020 banquet & profiles of new inductees
This new video shows the LSHOF enshrinement banquet on Saturday night Sept 4 and includes profiles of the new inductees. Video courtesy of Lorain Schools TV20 YouTube channel.
NEWS COVERAGE
Local newspapers highlighted the 51st LSHOF Enshrinement banquet and our new enshrinees.
See what The Morning Journal said by clicking this link.
See coverage in The Chronicle-Telegram at this link.
Updated Sept. 21, 2021
__________
2021 Uland winners: Hermon, Carreras, Billings, Allen
Pictured above, left to right, Mikiya Hermon of Lorain High School and Hiram Carreras of Clearview High School are the top winners of the J. Ed Uland Award scholarships for 2021 from the Lorain Sports Hall of Fame. Runner-up winners are Jamir Billings of Lorain High and Elizabeth Allen of Clearview. All four will receive scholarships. The Uland awards honor the outstanding male and female scholar-athletes from each high school in the city of Lorain. The selection process is based on demonstrated excellence in athletics, academics, leadership, and community service. Each of these areas is considered of equal value and importance in making the selection. Congratulations and best wishes to the winners!
Posted June 24, 2021