In The News …
Save the date: May 11, 2019 – Enshrinement Banquet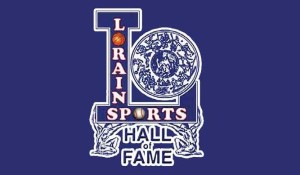 Saturday, May 11, 2019, is the date of the next Lorain Sports Hall of Fame Enshrinement Banquet. Be sure to save the date on your calendar of events to attend. Meanwhile, you can visit the LSHOF Museum at Lorain High School and Like us on Facebook. As always, our website has details and photos about all the LSHOF enshrinees plus details about visiting the LSHOF Museum at Lorain High School and attending our special events throughout the year.
Posted Sept. 28, 2018
__________

Click this link for full story
Posted Sept. 1, 2018
____________
Lorain Sports Hall of Fame Museum hours
Tuesday-Wednesday-Thursday 11 a.m. to 2 p.m.
Closed every third Wednesday of the month
Open for special events at Lorain High School
If not able to attend during open hours
call Bambi Dillon 440-989-6539 to set
up time to visit the museum
Posted Aug. 29, 2018
_______________
Nomination time for 2019 LSHOF enshrinement
Sept. 30, 2018, is the fast-approaching deadline for nominating Lorain athletes you think are worthy of induction into the Lorain Sports Hall of Fame. The nomination form is comprehensive and takes time to complete, so don't wait. You can find eligibility rules at this link and you can download nomination forms at this link. The next enshrinement will take place in May 2019.
Posted Aug. 16, 2018
____________
2018 Golf Outing Photo Album
Posted Aug. 17, 2018
________________
Video of the 2018 Enshrinement Banquet
Click the image below to see the video

Posted July 12, 2018
______________
Posted July 10, 2018
______________
Reminder: The LSHOF museum at Lorain High School is closed for the summer. It will reopen in late August when school resumes.