In The News …
Steak fry March 9 to benefit J. Ed Uland Award scholarships
A steak fry will be held Sunday, March 9, 2014, from 5 p.m. to 8 p.m. to benefit the Lorain Sports Hall of Fame's J. Ed Uland Award scholarship program. The steak fry will be held at the Amherst Eagles Aerie 1442 located at 1161 Milan Ave. in Amherst. Tickets are $20 per person and can be purchased by contacting Terry King at 440-288-4795, Rick Hans at 440-213-9162 or Dave Simpson at 440-985-5821.
___
Tyler King honored as All-Ohio Division I First Team Defensive Lineman
Tyler King of Lorain was honored by the Lorain Sports Hall of Fame for being named to the 2013 All-Ohio First Team Division I Defensive Line. King is a three-year football player for St. Edward High School in Lakewood. He plans to play college football at Bowling Green State University, where his father, Dan King, also played. His grandfather, Terry King, played football at West Virginia University, was inducted into the Lorain Sports Hall of Fame in 1995 and now serves as a Lorain Sports Hall of Fame Committee member.
___
Lorain High athlete honored for All-Ohio girls track performance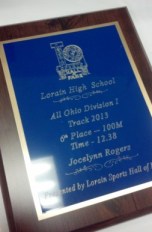 Lorain High School girls track athlete Jocelynn Rogers has been honored with a plaque from the Lorain Sports Hall of Fame for her 2013 All-Ohio Division I performance. Jocelynn won 6th place in the 100 meters with a time of 12.38 seconds at the state track meet this past May. Her coach, Bill Rufo, is also a member of the Lorain Sports Hall of Fame committee.
- Posted Jan. 18, 2014
—
LSHOF at Lorain-Clearview game Saturday, Jan. 18
We'll have a LSHOF display table set up at Lorain High School on Saturday, Jan. 18. If you're there for the Lorain-Clearview game, stop by to say hi, and you can pick up an application to nominate someone for the 2015 class of inductees.
A special presentation also will be announced. More on that later. Hope to see you Saturday!
- Posted Jan. 17, 2014   —
LSHOF honors Clearview's All-Ohio First Team football players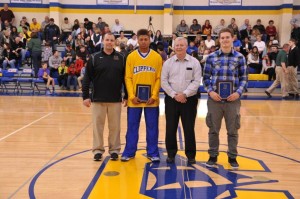 Clearview High School wide receiver Lance Billings, second from left, and quarterback Roger Engle, hold plaques from the Lorain Sports Hall of Fame honoring them for being named to the 2013 Associated Press Division IV All-Ohio First Team. Billings was named to the offense as an end and Engle punter. Clearview Athletic Director and football coach Mike Collier, left, and Lorain Sports Hall of Fame Committee President David Simpson made the presentation Dec. 20. Collier is also a LSHOF committee member. (Photo courtesy of Ed Thompson, ThomCat Photography)